Chapter 2 – 

Or how Bella is conveniently in the right place at the right time.
This chapter Bella meets her new besties who love her instantly despite her being a pile of crap and the author somehow forgets her own timeline.
I don't know why I agreed to do this.
Chapter 2
Stanford University, California

Dropping my multitude of bags on my bed, I sigh. I had back pains from having to carry all of these bags up three flights of stairs and from the long plane ride from Phoenix. But, I couldn't complain. I was here. I was where I wanted to be. Where I want to be.

Kicking off my shoes, I sit down for a breather. I knew I was in great shape, but that doesn't mean that I didn't have an issue with carrying at least 10 bags, big and small, up three flights of stairs.
Rebelle Scribe: 'I knew I was in great shape'. Someone please check the ego on this bitch.
Wayward Lady: And we're adding to two of the counts already.
WOE IS ME: 5
HAVE I MENTIONED HOW BEAUTIFUL I AM TODAY?: 9
CLICHÉ STORM: 10
IT'S ALL PART OF MY MARY SUE FANTASY: 5
You're probably saying, Why didn't you use the elevator? To which I would respond, You didn't see the long lines by the elevators. I would have suffered the pain than sit there for who knows how long. Anyways, I was here. And now that I'm here, that means I need to unpack every single thing that I packed in the last two weeks.
Rebelle Scribe: Why are the next few lines even necessary? We get it – you packed everything, moved out, moved in, now you must unpack. No shit.
Wayward Lady: This is Smeyer's way of writing. I have too many memories of Bella's every boring little action as she made casserole.
LIVE FREE OR TWIHARD: 8
I get up and pick the smallest bag I can find. I open it to see that it carries my bathroom products. Not knowing what to do with those just quite yet, I push them off to the side for me to deal with it later
Rebelle Scribe: She doesn't know what to do with her bathroom products. Why not put them in, dare I say, the bathroom?
The next bag I open is full of clothes. Perfect. That should be done in about twenty minutes.
Rebelle Scribe: And why is she so sure of the exact time it will take her to deal with her clothes? Why do we need to know this? Oh look, it took her three times as long. Fascinating. Please, tell us more.
About an hour later, I was still not done with all of my clothes. I'm astonished to see how many tops I actually have. Never saw myself as the girl to have so many shirts when I seem to wear the same ones over and over again.
Rebelle Scribe: Look what a strong and independent woman she is, she is so not into clothes. Only weak women are obsessed by clothes. Our heroine just wears the same stuff all the time because those things are just so not important to her.
Wayward Lady: She does realise that you have to have clothes for you to wear them over and over? I'm sure somebody who really doesn't care about clothes would just wear a plastic bag.
As I rub my hand over my forehead, I sigh. I need a break, I think. Just as I'm about to put my shoes back on, a girl pokes her head through my door.

I look up thinking that she's my roommate, but I don't see any bags with her. But what I do see is a clipboard. So, she's the resident assistant. She's very pretty though. She has long brownish-gold hair, a lithe body, and very warm eyes.
Wayward Lady: We never actually get to see who is Bella's roommates as she fucks off and then NEVER ACTUALLY COMES BACK TO HER ROOM AGAIN. WHY ARE WE SPENDING ALL THIS TIME IN THE ROOM, TALKING ABOUT UNPACKING ALL YOUR SHIT? This is filler.
LIVE FREE OR TWIHARD: 10
Also, how can you have brownish-gold hair? Aren't those two totally different colours? Jess has slightly dirty blonde hair but it's in no way brown!
"Hi, I'm sorry to bother you, but I am the residents' assistant. My name is Jessica Moore, and I just came to tell you that your roommate will not be arriving for another couple of weeks." She winces, seeming to think that that could potentially be a problem and she'd have to resolve it.
Wayward Lady: If this was a well written fic with you know, plot and character development, we'd have Bella actually living her college life and being around enough to meet her roommate. But this is still a Twilight fic, so we'll have none of that crap here!
LIVE FREE OR TWIHARD: 12
CLICHÉ STORM: 11
Also, I'd think a lot of people would be pleased to have a room to themselves for a few weeks.
"Really? That's fine. Not a big deal." I silently snicker at the look of relief that crosses her face. "I'm Bella. Bella Swan. Nice to meet you Jessica." I stick my hand out for her to shake.

She takes my hand and gives it a firm pump.
Wayward Lady: Firm pump. Snerk.
"Nice to meet you too, Bella. Call me Jess, please." She looks around the room and smiles. "I have an idea. Since my shift will be over in about fifteen minutes, would you like some help unpacking?" Turning to look at me, she waits for an answer.

It seems weird to me that a complete stranger was willing to help me unpack. The unpacking could take hours. I don't know anyone in their right mind that would willingly unpack a whole bedroom with someone they don't even know. But I could use the help, so I nod and smile. "Yeah, that would be great, thank you. I'll be here when you're done with your shift."
Wayward Lady: I think this is because Bella is too selfish and self-involved to ever offer to do something for another human being. Plus how long does it take to unpack a dorm room anyway? Giving it a point.
WOE IS ME: 6
Rebelle Scribe: Ugh, the whole exchanged is laboured. Having unpacked a dorm room, it does take a while. On the other hand, who lets random strangers go through all their stuff in the first half-hour of being at college? Maybe it's just me…my books are my precious.
Bitch, you so much as look at my babies the wrong way and there won't be a body for anyone to find. YES, THERE IS AN ORDER TO THEM! It's just a secret one known only to myself!
Wayward Lady: Fair enough but she does get a point for being a bitch about it anyway.
BITCH IN SHEEP'S CLOTHING: 11
She smiles and says, "Okay, I'll be back in about twenty minutes at the latest."
Turns out, she's a very punctual person, she arrives at my room in exactly twenty minutes. Her first words were, "Where do you want me to start?" Because I don't know her to well, and these aren't too personal, I ask her to find a place to put my books.
Wayward Lady: I'm with Rebelle on never letting anyone touch my books. Hell, I wouldn't even let Rebelle Scribe re-shelve my books and we've been besties since we were eleven. It's a personal thing.
As we work on unpacking my things, we get to know each other very well. I tell her a lot of my secrets and she tells me about her boyfriend, Sam Winchester. When she talks about him, she gets this look in her eyes, and I know it's real for her. I can only hope it's as real for him.
Wayward Lady: Ugh, do you get a tinge of jealousy with that line? Or is that just me, reading too much into Bella's self-absorbed, misery-guts personality?
Rebelle Scribe: I also share all my darkest secrets with people when we first meet. And yes, I smell the jealousy masquerading as concern for new-BFF-Jess.
Wayward Lady: I have spent far too long reading about Sues. I feel that I'm a little too in tune with their sneaky, fake-nice personas.
BITCH IN SHEEP'S CLOTHING: 12
When we were finally, finally, done with all of the unpacking (it goes quite quick with two people), she asks if I'd like to go to the pizza place to grab something to eat.
My stomach growls.
Laughing, she says, "I'll take that as a yes. I'll let you get ready and clean up a bit. I'll meet you there around seven?"

I look over at the clock. It's 5:38 right now, so I had plenty of time to get in the shower and dress. "Yeah, seven is perfect."
"Great!" She gets up and walks over to where I'm sitting. She leans down for a hug. "I'll see you then, Bella. I can tell we'll be great friends." I laugh as she practically prances out of my room and down the halls of the dorm.
NO CHICK FLICK MOMENTS!: 1
This is our OOC count. Usually applies to Dean (hence the name) but other canon characters get twisted enough that it applies to them too.
LIVE FREE OR TWIHARD: 13
That last one is for Jess prancing off like she's Alice fucking Cullen.
Shaking my head, I get up and grab the bathroom products that I neglected to take care of earlier. I head to the bathroom and shower.
Walking back into my room, I finish getting ready and put light makeup on. Looking at myself in the mirror, I smile. I look good after all the stress of today. But now that I have Jess, who I've discovered is a sophomore in becoming a vet, so she can help me work through anything and everything that is thrown my way. She said she would help.
Wayward Lady: Ooh, ohh!!
HAVE I MENTIONED HOW BEAUTIFUL I AM TODAY?: 10
Wayward Lady: And much like canon!Bella, she only sees people of how they can be of use to her.

BITCH IN SHEEP'S CLOTHING: 13
Rebelle Scribe: So she did know where to put the bathroom products. The plot thickens!
I ask at least three people for directions to the pizza place, which garners me at least two, maybe more weird looks.
Wayward Lady: It's because you're a Sue. They saw the super shiny aura of POISON and figured that as a Sue, you're supposed to be perfect and know everything.
Apparently, I should just know where it is.
I mean, it being my first day on campus, why wouldn't I know where it was.
WOE IS ME: 7
Wayward Lady: Oh, fuck you. Maybe you should have checked with Jess beforehand which pizza place she meant? That dumbassery is on you.
Rebelle Scribe: Ding ding ding ding!
WRITING ERRORS: 5
As I finally turn the last corner, I see the pizza place up ahead. There are people milling around outside, smoking, and others walking in and out after the finish their meals. I cross the street and I walk inside. Looking around, I come to the conclusion that Jess isn't here yet. I see a booth that is empty at the back of the dining room and decided to occupy that for Jess and I.

After about ten minutes, I look up at the clock and realize its 7:08. She's late. As far as I knew, and as far as she told me, she was always, always, always on time. Apparently, today was not the case, but it wasn't a big deal.
7:10 rolled by and she still hasn't shown. I decided to give her another five minutes before I left.
The clock just turned 7:15 when Jess walked through the door with a really, really tall guy. He has long brown hair and brown eyes. A bit of a lanky build. I came to the conclusion that this was Sam, Jess' boyfriend.
Rebelle Scribe: I'd also like to point out that knowing someone for half an hour does not make you an expert on their time-keeping. It seems, just like canon!Bella that this Bella has always been too wonderful to ever have any friends before this point…
And stop coming to conclusions. You are not Sherlock.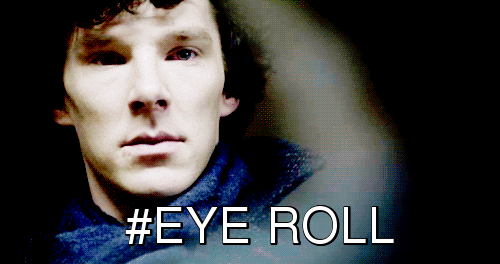 CLICHÉ STORM: 12
I stand up and wave at them to get their attention. Jess sees me first and waves back. She starts to pull Sam in the direction of the table and he finally catches sight of me. He smile and waves.
They arrive at the table and I hug Jess. "You're late. I thought you were never late." I smirk, knowing this will get a rise out of her.
SMIRK, SNERK: 4
Wayward Lady: Ugh, I think this count is gonna piss me off the most. But we'll see.
Jess sputters while Sam chuckles. "It was his fault. He takes longer on his hair than I do! I mean, geez. It was not my fault. Had it only been me, I would have been here before you." Her face was red and she was practically foaming at the mouth with conviction.
Wayward Lady: Fuck you, don't blame it on Sam. That man is a Norse god in a shampoo commercial. He runs his hands through his hair and it's perfect.
I am in tears with laughter. "Okay, sure, Jess. Let's sit." I climb in on the side I was previously sitting and Jess climbs in on the other side, Sam following.
I reach my hand across the table. "I'm Bella. I'm sure Jess has told you all about me, but I would like to introduce myself before she does the whole 'Bella, Sam. Sam, Bella' thing. Always annoyed me."
Wayward Lady: Check the ego on this bitch. If it had been me I would have gone 'hey, meeting a new student for dinner, pizza, you coming?' You know nothing about this girl and I doubt Jess is going to gush to Sam all about her.
HAVE I MENTIONED HOW BEAUTIFUL I AM?: 11
LIVE FREE OR TWIHARD: 14
IT'S ALL PART OF MY MARY SUE FANTASY: 6
Sam chuckles and shakes my hand. "I assume you already guessed, but I am Sam Winchester, Jess' boyfriend. Pleased to meet you Bella."
WRITING ERRORS: 6
Comma! Comma!
Removing my hand from his and replacing it at my side, I say, "The pleasure is all mine." With a smile.
"Oh my God. Bella. You are not trying to get with my man!" Jess screeches.
Wayward Lady: Oh Christ, why is Jess shrieking like some Valley Girl? I know we don't see much of Jess in the series but she does not seem like the type. I know it's minor but it's a recurring thing so it's time to add a new count.
NO CHICK FLICK MOMENTS!: 2
Rebelle Scribe: It must be so terrible being introduced to people…*grinds teeth* Maybe we should have a count for every time the fic makes me grind my teeth?!
WRITING ERRORS:7
IT'S ALL PART OF MY MARY SUE FANTASY: 7
I laugh so hard, I almost snort. "No, Jess, it's just so fun to screw with you, and besides he's a little old for me."
"Old? Are you calling me old? You have to be at least twenty, so that just makes me two years older than you are." Sam's face is alight with shock and displeasure at practically being called old.
Wayward Lady: My God, Sam is not a middle-aged woman who's just found her first grey hair. I don't think he'd protest about being called old.
LIVE FREE OR TWIHARD: 15
"Umm, yeah, old for me. I wasn't necessarily calling you old, just old for me. I'm not even eighteen yet. I graduated from high school when I just turned seventeen. My birthday is in two days, though." I blush, a horrible thing that has haunted me my whole life. I have blushed whenever someone complimented me, checked me out, or I said something that was even the slightest bit embarrassing. But, I've had to live with it because there was no way of getting rid of it.
Rebelle Scribe: Also, here we are again with the freaking blushing. At least this shows us a little bit of the canon!Bella tendencies.
LIVE FREE OR TWIHARD: 16
Wayward Lady: And lastly, two of these for the backhanded compliment Bella just gave herself.
HAVE I MENTIONED HOW BEAUTIFUL I AM TODAY?: 12
Both Sam's and Jess' faces showed massive signs of shock. Jess spoke first, "What?! I didn't know you were seventeen! I thought you were at least nineteen. I mean, it doesn't matter, but you make me look like a dumb person next to you, Miss Seventeen-Year-Old-College-Student."
HAVE I MENTIONED HOW BEAUTIFUL I AM TODAY?: 13
Fawning over Bella, so still gets a count.
I laugh. "Yeah, I was shocked when my school told me that I was eligible to graduate. I thought I would have to suffer another year in the dreary halls of my high school. If I had friends, it would have been a little bit better, but I never really connected with anyone until I met you, Jess."
She smiles, "Okay that makes me feel a little bit better. I'm like your first real best friend. The biggest honor ever."
Wayward Lady: You've known each other a matter of HOURS. Oh, and little loner Bella gets one of these.
WOE IS ME: 8
CLICHÉ STORM: 13
And one of these for the gushing Jess.
NO CHICK FLICK MOMENTS!: 2
"I need a beer." Sam says. His face is still full of shock, like I just told him that Jess was pregnant.
Jess and I laugh. "He speaks!" Jess squeals when he reaches over and tickles her.
Smirking, I say, "He's ALIVE!"
Wayward Lady, Rebelle Scribe: Oh for fuck's sake.
SMIRK, SNERK: 5
Looking over at me, he practically yells at the waitress for three beers.
"Do you really need three beers, Sam?" Jess' face is worried, afraid that he was hiding that he was an alcoholic from her.
"Yeah, one for all of us." Sam smirks right back at me, and I know, that I would not end this night sober.


NO CHICK FLICK MOMENTS: 4 (two points. One for Sam giving alcohol to a minor, which is something I seriously doubt canon!Sam would allow and another for Jess not being able to count all of a sudden.)
DUMBASS QUOTA REACHED: 1
This count is one of our last counts. It happens when people are total dumbshits. We added this count in last actually, because we felt after we were done that we needed to track how effing stupid everyone in this fic is.
After we finish a pizza and 10 beers between the three of us (4 for me, 2 for Jess, and 4 for Sam) I was considerably tipsy. "I have never drank anything in my entire life. I've always been the good girl that never went against her parents. Never even went to a party." I was slurring my 'r's I could tell.
I'M SUCH A GOOD GIRL: 1
Wayward Lady:That last count is new. It's continuously brought up how pure and virtuous Bella is. Never been to a party, never had a beer, as innocent as the day is new. Barf. Not sure if this is Smeyer's influence or the Suethor.
Rebelle Scribe: And here is the ever present hypocrisy of Twilight that makes the whole franchise so sickening – not only is Bella such a good girl that she's never had a beer, but she is simultaneously our rebel bad girl because, given the opportunity to drink (underage) she does so with gusto – having four beers to Jess' two. She keeps up with the guys because she's better than all the girls.
We should probably have a count for that…
Wayward Lady: Ooh ooh!
ANYTHING YOU CAN DO, I CAN DO BETTER: 1
Similar to a future count, but this one applies to any time Bella is perfect right away/awesome /friends with everyone automatically. She's as stunning as the girls without trying and guys love/want/are total bros with her. GAG. ME.
Wayward Lady: I'm gonna script this next bit. It has no importance whatsoever, it's just a way to make sure Bella is in the same place as Sam when Dean makes his appearance.
Sam: Haha, drunk Bella is funny. I seem to have no morals whatsoever about getting a minor drunk on her first day at college!

Jess: I'm irrationally protective and naggy! Bella must stay with us, as she is my new BFF!

Bella: ~burps~

Sam: continues to act like a jock.

Jess: This is the couch! It's convenient…I mean, uh, uncomfortable but you're so pissed I doubt you'll care.

Bella: passes out.
Wayward Lady: Seriously, I'm on the edge of my seat at the thrills and tension we have going on here.
Cue the terribly written, out of character, practically sexual harassment meeting between our 'love interests.'
A couple of hours later, I woke up from hearing a door open. I look around and after seeing nothing, I lay back down to sleep. It was probably Sam or Jess getting up to go to the bathroom.

Then I hear footsteps. Booted footsteps. Jess or Sam wouldn't put shoes on just to go to the bathroom. I shoot up and try to take in my surroundings. It's too dark to see anything. I look to my right and scream. There was a figure standing in front of the window.
I hear two pairs of feet running from the bedroom and I know that Sam and Jess are coming.
Wayward Lady: Wow, I was not expecting to add this count until later.
INSTANT HUNTER, JUST ADD WATER: 1
Suddenly the lights in the living room come on and I have to shield my eyes from the brightness of them. I hear Jess shriek. She doesn't know this man either.

I feel much better when I hear Sam say, "Dean?" At least someone knows him.
Wayward Lady: What, no hot rolling around on the floor together?
DUDE, YOU'RE NOT IN THIS SCENE: 1
Wayward Lady: Another new count! This one is pretty self-explanatory. Bella is butting her way into canon scenes now.
"Hey, Sammy. I see you're having yourself a little party, huh?" Looking up at 'Dean', I see his green eyes staring at me. I shiver, I don't really like the way he was looking at me. As if I was something to eat.
NO CHICK FLICK MOMENTS: 5
CLICHE STORM: 14
RAPEY MUCH?: 1
Wayward Lady: The last new count for this chapter. As expected for a Twilight fan, liking someone apparently means harassing them.
Rebelle: Dean would never approach a woman like this; especially in the middle of the night with a girl passed out on the sofa in his brother's college apartment. And ESPECIALLY when there are more important things on his mind – like say, their missing father?
Then he opens his mouth and I want to punch him right then. "Hey, sweet cheeks. I bet I could take you for a ride better than Sammy any day." His voice is seductive, deep and gravelly. But what he said made me almost hate him.
I was pissed. He was so going to get it.
RAPEY MUCH?: 2
Wayward Lady: Dean might be a bit of a player, but he's always respectful of his love interests. I'm sure the Suethor thought this was something Dean would say. But instead of being flirty, it's just downright creepy.
Wayward Lady: Oh. And this.
HAVE I MENTIONED HOW BEAUTIFUL I AM TODAY?: 15
CLICHÉ STORM: 15
IT'S ALL PART OF MY MARY SUE FANTASY: 8
Two down. Five to go. Wish us luck.